---
---
Endurance B5U Upright Bike
With a light commercial rating the B5U is perfect for most homes and clubs.  The ergonomic handle bar combines with the heavy gauge steel frame to replicate a true road cycling experience. The B5U offers advanced programs providing workout variety and keeping your workouts fresh and interesting.  The advanced heart rate control programs provide the ultimate in personalized programming as the bike reacts to the users heart rate.  Key feedback gives users advanced workout information.  The easy to navigate touch screen console has a modern look while accessing all programming and feedback.  The B5U is also self generating, requiring no external power supply.  As you pedal you create the energy to power the easy to navigate touch screen display.
B5U Dimensions: 59" L x 26" W x 63" H
Weight: 150lbs
Self Generating Power
Commercial Rated
Touch screen display
Advanced HRC programs
Scroll Down for List of Programs
Features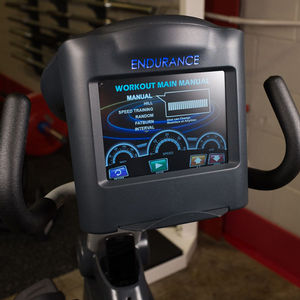 CONSOLE
The B5 bike series redefines the workout experience with the 8" integrated  LCD touch screen. This innovative design allows users to instantly access  the  11 exercise programs  including 5 heart rate programs. while maintaining easy- to-reach resistance controls for immediate comfort along with time, distance, calorie and heart rate readouts.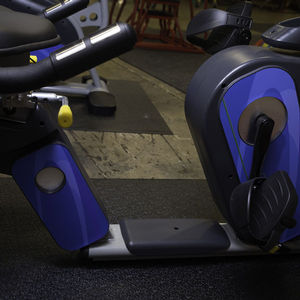 WALK THROUGH DESIGN: The B5R offers  an easy on-and -off  design  for  added safety and comfort. This premium design caters to all body types  and facilities ranging from  rehabilitation to geriatric facilities.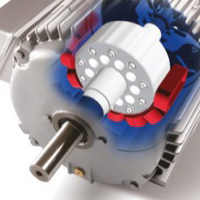 RESISTANCE
Endurance's Tri-phase generator eliminates a need for outside power  for easy  placement and mobility in any facility worldwide. The B5R's 16  levels of resistance caters to all users, whether you're a beginner or an  experienced rider.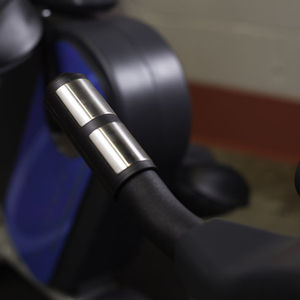 HEART-RATE MONITOR
The B5R heart rate sensors feature dual sensor plates  for  more precise contact readings.  This is especially useful for users with soft pulses (in hands)that generally  experience lower pulse readouts. The premium armrests relax the user providing biomechanically correct posture  while alleviating tension in the shoulder area.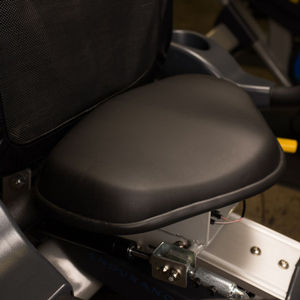 DURAFIRM SEAT
The B5U seat  with custom shaping and  extra support  are designed for long rides .  A combination of high and low density provides long term durability with the comfort that the most advanced riders demand.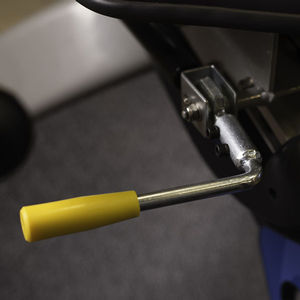 SEAT POSITIONING
The Endurance seat lock  mechanism gives users an infinite amount of seat positions for greater comfort and perfect positioning.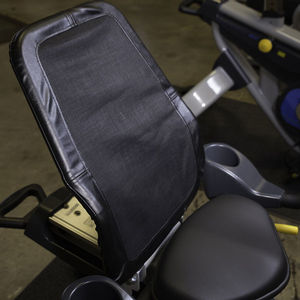 RECLINING MESH SEAT BACK
The breathable mesh back seat can easily recline with just a simple lever adjustment to target different areas of the quadriceps while riding.    The mesh, easy to clean  seat back  allows for clearer airflow  for a more comfortable riding experience.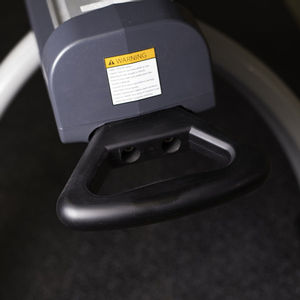 TRANSPORT HANDLES
With their thick heavy frames and self generating power supply, the B5 bikes can be  easily transported using the large transport handles. Easy mobility with the integrated transport wheels allows users to situate the bike in any setting.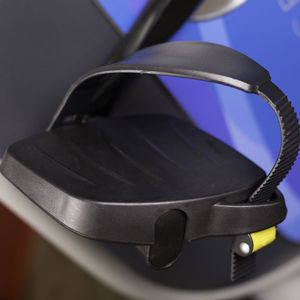 PEDALS
Premium pedals with straps  are engineered for extended use .  Pedals are spaced appropriately  for correct alignment of the hips, knees and ankles  thus reducing potential  injuries.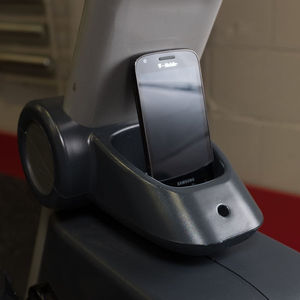 HAND HELD DEVICE STORAGE
This small ledge is a convenient holder for electronic devices including  phones, I pods, tablets and small books.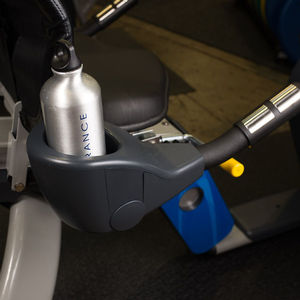 WATER BOTTLE STORAGE
Hydration is critical to every workout. Water bottle holders on each side can also double as storage for portable devices and accessories.
 
Console Programs
The B5U features preset programs including MANUAL, HILL, SPEED TRAINING, RANDOM, FATBURN, INTERVAL and various HEART RATE training programs. Supporting the Heart Rate Programming are dedicated hand pulse sensord and available HRC chest strap. The B5U lets you know where you stand with multiple read-out screens and more than enough information to keep you going.
PRESET PROGRAMS
There are six preset regular preset programs. They are MANUAL, HILL,
SPEED TRAINING, RANDOM, FATBURN, INTERVAL.
MANUAL: This program allows the user to have the complete control over their workout. The user can make adjustment on resistance level from 1 to 16.
HILL: This program takes the user through two hill profiles. Resistance changes are small during this program. This is a good program to get started with or for someone looking for a lower stress workout.
SPEED TRAINING: This program simulates interval training with more extreme levels of high and low
intensity levels.
RANDOM: This program randomly generates a new program profile every time it is chosen. This allows you to keep the workouts fresh and motivating. The RANDOM program will be different every time you use it.
INTERVAL: This program varies the intensity of the workout between low and high resistance to quickly raise and lower the heart rate thru a series of high & low profiles.
FATBURN: This program gets your heart rate fast and maintains it at 65% of your calculated
maximum heart rate with slight variation to provide optimal calories burn.
TARGET HEART RATE PROGRAMS: Heart rate control programs are designed to automatically change resistance to keep your heart rate at a predetermined level based on the selected Heart Rate program. Each Heart Rate program is designed with a specific goal in mind.
The preset Heart Rate Programs are TARGET HEART RATE, HR FATBURN, HR CARDIO, HR HILL, HR INTERVAL, % (TARGET HEART RATE)
% Target Heart Rate allows the user to select a Target Heart Rate (See section titled MONITORING YOUR HEART RATE for more information) that would like to be maintained during the exercise session.
HR 80% (CARDIO): HR 80% maintains the Target Heart Rate at 80% of the Maximum Heart Rate by automatically adjusting resistance levels. This program provides for a high intensity, cardiovascular workout.
HR 65% (FAT BURN): HR 65% maintains the Target Heart Rate at 65% of the Maximum Heart Rate by automatically adjusting the resistance levels. This program provides the ultimate fat burning workout.
HR 60-85% (HILL): HR Hill simulates hill training by alternates between 60% and 85% of your Max HR.
HR 60-85% (INTERVAL): The HR INTERVAL program alternates between 60% and 85% of your Max HR. This
program provides an excellent fat burn and cardiovascular workout.
To obtain the greatest cardiovascular benefits from your exercise workout, it is important to work within your target heart rate zone. The American Heart Association (AHA) defines this target as 60% -75% percent of the Maximum Heart Rate.
The Maximum Heart Rate may be roughly calculated by subtracting the user's age from 220.
The Maximum Heart Rate and aerobic capacity naturally decreases as the user ages. This may vary from one person to another, but use this number to find your approximate effective target zone. For example, the Maximum Heart Rate for an average 40 year-old is 180 bpm. The target heart rate zone is 60%-75% of 180 or 108-135 bpm. See the Fitness Safety
section.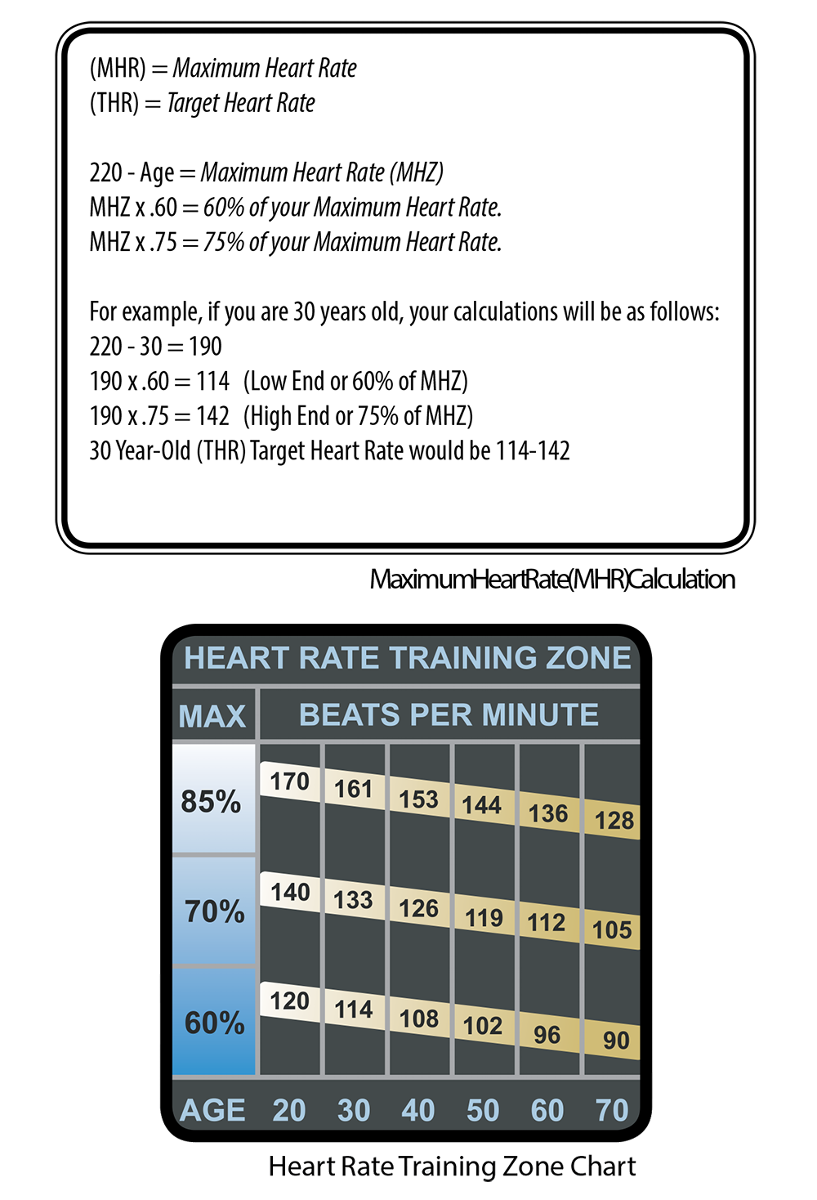 ---
---
Warranty Information
The Endurance B5U Upright Bike is backed by the strongest warranties in the industry:
Endurance In-Home Lifetime Warranty
Endurance by Body-Solid Commercial Warranty
---